OUR CANINE GUEST AREA PROVIDES 13 SPACIOUS AND COMFORTABLE 4X6 SUITES WITH THEIR OWN 4X10 ATTACHED OUTDOOR RUNS. THE KENNELS ARE CLEANED DAILY AND ARE WELL VENTILATED AND BRIGHT; MUSIC AVAILABLE TO PETS 24/7. FOR THE COMFORT OF OUR GUESTS, WE ASK THAT A 'TASTE OF HOME' ACCOMPANY THEM FOR THEIR STAY. THIS COULD INCLUDE BEDDING, NYLABONE, STUFFED TOY, SPECIAL TREATS. WE DO NOT ALLOW BEEF BONES OR SQUEEQY TOYS.
WE ASK DOGS TO PROVIDE THEIR OWN FOOD, AS IT'S BEST FOR THEM TO REMAIN ON A FAMILIAR DIET. WE PROVIDE STAINLESS STEEL BOWLS, TREATS, TOYS, AND LOTS OF TLC.
WE ARE ABLE TO ADMINISTER MEDICATIONS AND INSULIN SHOTS.
WE ARE A FULLY LICENSED AND INSURED BOARDING FACILITY AND ARE ALSO CANINE/FELINE CPR AND FIRST AID CERTIFIED.
RATES FOR BOARDING ARE PER FAMILY/PER NIGHT
1 DOG $30.00
2 DOGS $50.00
3 DOGS $70.00
4 DOGS $90.00
5 DOGS $110.00
6 DOGS $130.00
DAY VISITS 1/2 DAY VISITS
1 DOG $22.00 1 DOG $ 16.00
2 DOGS $40.00 2 DOGS $ 34.00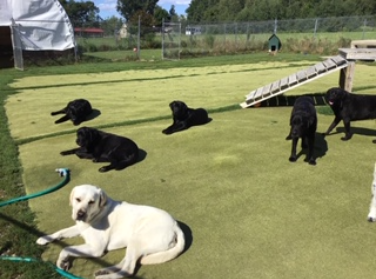 VACCINATIONS REQUIRED FOR DOGS:
RABIES-PARVO/DISTEMPER-BORDETELLA
COPIES OF VETERINARIAN RECEIPT ACCEPTABLE.
ADD $6.00 PER NIGHT FOR INTACT MALES AND FEMALES NOT SPAYED OVER 1 YEAR OLD.
DOGS ARE NOT OUR WHOLE LIVES,
BUT THEY MAKE OUR LIVES WHOLE.
DROP-OFF AND PICK-UP HOURS
8-10 AM AND 4-7 PM
7 DAYS A WEEK
NO DROP- OFFS OR PICK-UPS ON
THANKSGIVING DAY OR CHRISTMAS DAY
DOGS
ARE BUNDLES OF LOVE WRAPPED IN FUR